Masters of Medicine in Gynecology (TCM), Liaoning University of Chinese Medicine (LUCM)
Bachelor of Science (Biomedical Sciences), Nanyang Technological University
Bachelor of Medicine (TCM), Beijing University of Chinese Medicine (BUCM)
Ayurvedic Therapist(500hr), Union Yoga Ayurveda Singapore
Diploma in Naturopath, College of Naturopathic Medicine(UK)
Certified Functional Medicine Practitioner, FMU
Certified Yoga Teacher(200hr), Yoga & Ayurveda Center(USA), registered with Yoga Alliance USA
"We're told that men are strong & brave, but I think women know how to endure, accept defeat & bear physical & mental agony much better than men. My years treating female fertility proved it."
– Edmund Pang, Principal TCM Physician, EMW
Some of our success stories...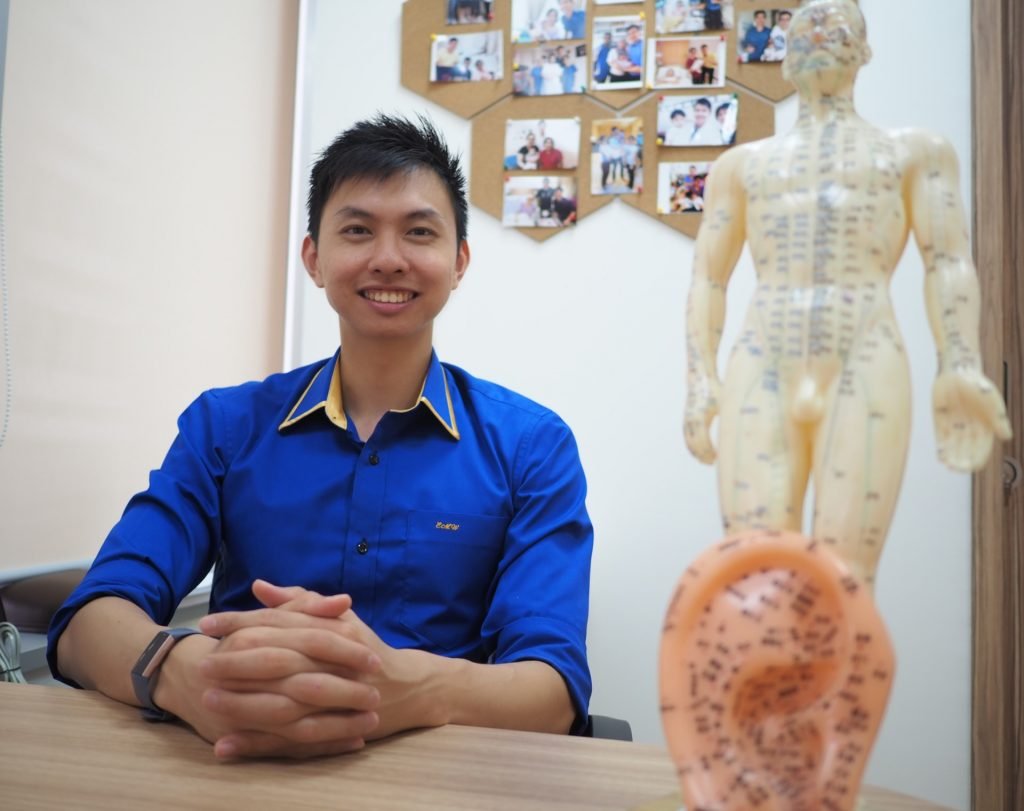 Edmund was one of the initial batches of the Traditional Medicine Program of NTU, when they started. He graduated from Nanyang Technological University(NTU) and Beijing University of Traditional Chinese Medicine(BUCM) with a double degree in both Biomedical Science(Hons) and Traditional Chinese Medicine(TCM) in 2014. Edmund's interest in advancing his knowledge and skills in the TCM's role in aiding in fertility inspired him to pursue a Masters in Gynecology from Liaoning University of Traditional Chinese Medicine(LUCM) in 2018. Edmund is also certified in Ayurveda Therapy including Panchakosha, Shadkriya Kala pathogenesis of Ayurveda, panchakarma etc at Union Yoga Ayurveda Singapore.
His passion to pursue his knowledge in Traditional Chinese Medicine was rewarded with a scholarship from Singapore Thong Chai Medical Institution(STCMI) before he left to BUCM for his studies. Upon his return, he worked at Singapore Thong Chai Medical Institution(STCMI) in 2014, treating multiple patients with suffering digestive disorders, musculoskeletal disorders, diabetes, neurology, respiratory diseases, etc. His passion and dedication to his profession led him to be subsequently promoted to Sengkang Clinic Supervisor after 3 years, and was later promoted to Team Lead of the Fertility Team of STCMI a year later. 
Women's Health and Fertility Issues
Edmund's keen interest in fertility and women's health, has led him to help many patients conceived naturally or supported them during their IVF treatments to conception. His training in his Masters program have bettered his understanding of the use of TCM and Ayurveda in Artificially Reproductive Technology(ART), and is the best representation of how East Meets West in the medical world.
Bilingual and equipped with knowledge of Biomedical Sciences, Ayurveda, yoga and TCM, he has helped many patients of all races to successful conception. In our high stressed working environment leading to a decreasing birth rate, he believes active participation in treatment and disciplined lifestyle changes are key to overcoming fertility barriers. He is immensely passionate about working with intended parents to not only improve the chance of conceiving but to give a child the best start to a healthy life.
Musculoskeletal Disoders
During his time in STCMI, he had treated many patients with sports injuries, muscle strains, IT Band tightness and neck, knee, ankle, hip and back pains. He understands that athletes would want to return to their game as soon as possible and attempts to reduce pain enough so that his patients can return to a modified level of training, in hopes of maintaining and eventually returning to full activity levels.
His combined expertise in acupuncture, cupping, guasha and herbal prescriptions has allowed his patients to achieve a remarkable level of success, especially with musculoskeletal injuries and chronic pain disorders.
Gastrointestinal Disorders
Through his years of clinical experience, he has witnessed how patients with chronic gastrointestinal disorders such as chronic gastritis and irritable bowel syndrome(IBS) have greatly lowered their quality of life. Using TCM herbal prescriptions and acupuncture, Edmund has successfully treated patients with chronic gastritis and IBS, presenting symptoms such as nausea, vomiting, bleching, bloatedness, heartburn, constipation and diarrhea.
Community efforts and talks
He has also given numerous public talks in community centres, topics ranging from "How can TCM help your knee pain", "Manage your neck & shoulder pain with TCM" to "TCM management in Irritable Bowel Syndrome(IBS)". He hopes that with better education, patients can recover faster and sustain a better quality of life longer.
In February 2019, invitation by  Department of Obstetrics and Gynaecology and Urgent O&G Centre of KKH Hospital (largest hospital specialising in healthcare for women and children in Singapore), he gave a talk regarding TCM and its uses in sub-fertility to doctors and health professionals. This is the first step in letting Western doctors and nurses know how TCM worked scientifically, and that better bridging between East and West, one day both hands can merge to provide a more holistic approach towards fertility issues. 
In Aug 2019, again upon the invitation of Reproductive Medicine Department of KKH Hospital, he was invited as a speaker for a public forum, entitled "Making A Baby: Things You've Always Wanted To Know But Just Too Afraid To Ask".  This forum further enhanced the understanding between Eastern and Western Medicine.