Sports taping is used to prevent further aggravation of injuries in either their joints or muscles while participating in sports upon recovering from their injuries. Taping techniques can also help in speeding up recovery from injuries by decreasing the amount of swelling in the injured area or even supporting the muscles while our patients are doing their exercises to decrease their pain. Our Physiotherapists are very experienced in on-field sports coverage and sports injury management and have a knowledge of different types and form of sports taping like Kinesiotaping, Rigid Taping, Functional Fascial Taping, etc. 
About Our Physiotherapist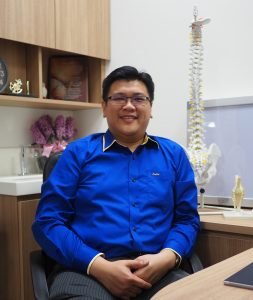 Calvin first started his physiotherapy training at Nanyang Polytechnic, graduating in 2003 with his Diploma in Physiotherapy. He later went to complete his degree with The University of Sydney with a Bachelor of Health Science (Physiotherapy) in 2004 and proceeded to complete his Master of Manual Therapy from the University of Western Australia (UWA) in 2006.
Through his years as a physiotherapist, Calvin had experience working with both local and international athletes, recreational and elite across multiple sports. Calvin had also served on the Singapore Physiotherapy Association Committee as the Co-Chairperson for Membership in 2014/15.
Calvin had also served as a Part-Time Lecturer and Clinical Instructor in Nanyang Polytechnic's Physiotherapy Program.