As each sport and athlete is unique, our Physiotherapists would sit down and understand their needs and requirements for their sport. We would tailor a rehabilitation program for our patients who had injured themselves, while doing their sport or accidents, and would like to return to their sports as soon as possible. The program would be tailored to their specific needs of their sport and level of competition. Our Physiotherapists would closely supervise the exercises prescribed in the clinic to ensure that the exercises are done correctly and that the exercises should be continued even outside of the clinic. We work closely with Sports and Orthopaedic Doctors, who we can refer our patients to for further management, diagnosis and advise, when required. We also work with sports massage therapists to further aid in our patients recovery and/or maintenance.
If patients require surgery for their injuries, we would also tailor a program, specific to their needs. We would follow them through the whole recovery and rehabilitation process and continue to support them even after they return back to sports. 
About Our Physiotherapist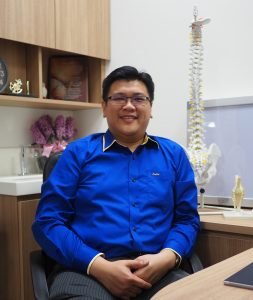 Calvin first started his physiotherapy training at Nanyang Polytechnic, graduating in 2003 with his Diploma in Physiotherapy. He later went to complete his degree with The University of Sydney with a Bachelor of Health Science (Physiotherapy) in 2004 and proceeded to complete his Master of Manual Therapy from the University of Western Australia (UWA) in 2006.
Through his years as a physiotherapist, Calvin had experience working with both local and international athletes, recreational and elite across multiple sports. Calvin had also served on the Singapore Physiotherapy Association Committee as the Co-Chairperson for Membership in 2014/15.
Calvin had also served as a Part-Time Lecturer and Clinical Instructor in Nanyang Polytechnic's Physiotherapy Program.