Pain Management is acheived in our clinic with the use of the following:
Therapeutic Ultrasound
Interferrential Current (IFC)
Transcutaneous Electro-Nervous Stimulator (TENS)
Heat Therapy
Cryotherapy
However, these are just used to ease your pain to allow you to do your exercises and not to cure the pain. Used together with Joint Mobilization and Exercises is your solution to keep the pain away
About Our Physiotherapist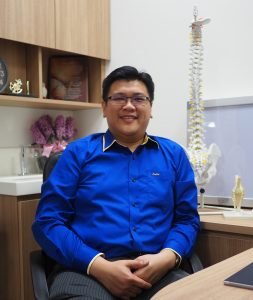 Calvin first started his physiotherapy training at Nanyang Polytechnic, graduating in 2003 with his Diploma in Physiotherapy. He later went to complete his degree with The University of Sydney with a Bachelor of Health Science (Physiotherapy) in 2004 and proceeded to complete his Master of Manual Therapy from the University of Western Australia (UWA) in 2006.
Through his years as a physiotherapist, Calvin had experience working with both local and international athletes, recreational and elite across multiple sports. Calvin had also served on the Singapore Physiotherapy Association Committee as the Co-Chairperson for Membership in 2014/15.
Calvin had also served as a Part-Time Lecturer and Clinical Instructor in Nanyang Polytechnic's Physiotherapy Program.