We use Formthotics™ for our orthotic fitting. The purpose of the orthotics is to support your arch and are commonly used to aid in relieving foot and heel pain, knee and even back pain. There are generally 3 foot types, namely high, normal and low arch. However, with age, our arch may collapse due to stability of the ligaments in the foot and/or the plantar fascia. We would assess your foot type in sitting, standing and walking/running. As the foot is a dynamic structure, we need to assess your foot dynamically before fitting your orthotic. Further adjustments, like adding wedges to your forefoot or hindfoot, can be made to your insoles to further correct your mechanics of your foot.
About Our Physiotherapist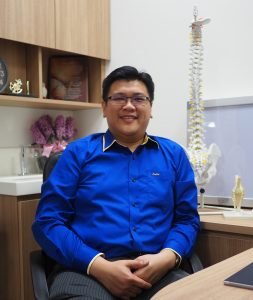 Calvin first started his physiotherapy training at Nanyang Polytechnic, graduating in 2003 with his Diploma in Physiotherapy. He later went to complete his degree with The University of Sydney with a Bachelor of Health Science (Physiotherapy) in 2004 and proceeded to complete his Master of Manual Therapy from the University of Western Australia (UWA) in 2006.
Through his years as a physiotherapist, Calvin had experience working with both local and international athletes, recreational and elite across multiple sports. Calvin had also served on the Singapore Physiotherapy Association Committee as the Co-Chairperson for Membership in 2014/15.
Calvin had also served as a Part-Time Lecturer and Clinical Instructor in Nanyang Polytechnic's Physiotherapy Program.