Integrative Approach to Neck and Back Pain
Think that you might have a slipped disc or sciatica? Have been diagnosed with Cervical or Lumbar Spondylosis, Disc Degeneration or even nerve impingement causing numbness in your arms or legs? Woke up with stiffness in your neck and having difficulty turning your neck without pain?
We use the term slipped disc or sciatica very loosely and any kind of low back pain with or without pain in the legs, we think we have a slipped disc. Generally, our disc does not slip out but what generally happens in "slipped disc" is the disc herniates out and compresses the nerve, causing us to feel pain radiating down the leg, giving us the sensation of sciatic nerve pain. Disc Degeneration, Spondylosis and Spondylolisthesis are all-natural processes of degeneration, that will happen to all of us, but when it happens at a much earlier age, we need to find out the cause of it.
EMW Approach to Neck and Back Pain
Here in EMW, we acknowledge your diagnosis and try our very best to understand and explain to you the cause of your pain. We strive to ease your pain by identifying your movement disorder, manage it and return you to pain-free movement as far as possible. We do this by observing your postural habits, restriction in movement and movement habits, aggravating factors and feeling for muscle tightness and joint movement.
With this understanding of your movement impairment arising from your pain, our treatment would include hands-on mobilization of your joints and muscles, manipulation of joints (if deem necessary with risk and benefits discussed for informed consent), pain management modalities like IFC, TENS, Ultrasound or Heat/Ice Pack might also be employed to manage your pain. Besides these, simple home exercises would be taught that are simple to do to improve compliance to the exercises for a more sustained relief.
In cases where there might be severe pain arising from nerve compression, having a certified acupuncturist in our clinic, would enable us to employ the best of East and West management approach to ease your nerve pain. Having an acupuncture treatment integrated with your physiotherapy treatment, might help decrease the sensitivity of your pain to enable you to reap the best possible result from your physiotherapy treatment.
About Our Physiotherapist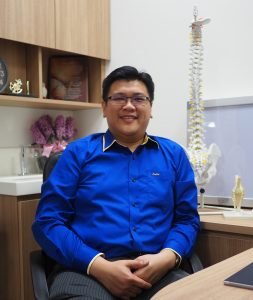 Calvin first started his physiotherapy training at Nanyang Polytechnic, graduating in 2003 with his Diploma in Physiotherapy. He later went to complete his degree with The University of Sydney with a Bachelor of Health Science (Physiotherapy) in 2004 and proceeded to complete his Master of Manual Therapy from the University of Western Australia (UWA) in 2006.
Through his years as a physiotherapist, Calvin had experience working with both local and international athletes, recreational and elite across multiple sports. Calvin had also served on the Singapore Physiotherapy Association Committee as the Co-Chairperson for Membership in 2014/15.
Calvin had also served as a Part-Time Lecturer and Clinical Instructor in Nanyang Polytechnic's Physiotherapy Program.