Integrative Approach to Shoulder Pain
Experiencing pain in your shoulder? Frozen Shoulder? Shoulder Impingement? Which is which? There are many causes of shoulder pain but that doesn't mean that if you have pain in your shoulder means you have Frozen Shoulder. Frozen shoulder generally refers to pain in the shoulder that would gradually lead to a decrease in one's ability to move your shoulder freely. More commonly, in the absence of an acute incident, our cause of shoulder pain is generally a shoulder impingement, causing pain on movement. Shoulder impingement occurs generally due to an inflammation of the rotator cuff muscles as the muscle tendon is either being pinched in the shoulder or an overuse. Shoulder impingement arises due to our high incidence of slouching due to prolong computer usage or poor sitting/standing posture.
EMW Approach to Shoulder Pain
Our Physiotherapists in EMW would assess your shoulder through observing your posture and shoulder movement (functional assessment), together with palpating your rotator cuff and scapular muscles and manual assessment of your capsule flexibility and muscle strength, we would help to determine the cause of your shoulder pain. Once the cause of your shoulder pain has been identified, deep tissue mobilization might be required to release the tightness in your muscles or capsule, stretches and strengthening exercises would be taught to rectify the tightness or weakness of the rotator cuff and/of scapular (shoulder blade) muscles. The use of therapeutic Ultrasound to reduce the inflammation or TENS may also be used to manage the shoulder pain. Through our years of experience, we also know that treating the shoulder joint is also not a simple task as the shoulder joint actually compromises of a total of 5 joints to give us the ability to move our shoulder so freely. Through our observation of your functional movement, we might also teach you exercises to improve the control of your muscles in the shoulder blade and even in your upper back muscles.
Regardless whether you are an elderly or an office worker, an avid racket sport player or just a housewife experiencing shoulder pain, we would tailor our exercise program to help ease your pain and return you, not just to pain-free daily movement, but also to return you back to the level of your activity that you were, as far as possible.
About Our Physiotherapist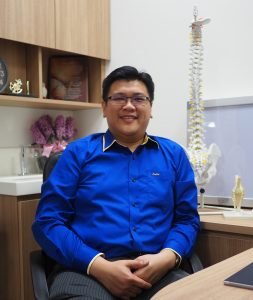 Calvin first started his physiotherapy training at Nanyang Polytechnic, graduating in 2003 with his Diploma in Physiotherapy. He later went to complete his degree with The University of Sydney with a Bachelor of Health Science (Physiotherapy) in 2004 and proceeded to complete his Master of Manual Therapy from the University of Western Australia (UWA) in 2006.
Through his years as a physiotherapist, Calvin had experience working with both local and international athletes, recreational and elite across multiple sports. Calvin had also served on the Singapore Physiotherapy Association Committee as the Co-Chairperson for Membership in 2014/15.
Calvin had also served as a Part-Time Lecturer and Clinical Instructor in Nanyang Polytechnic's Physiotherapy Program.